Bag Umbrella:  One of the worst feelings is pulling out a club and realizing the bottom of your bag has water, and your grips are getting wet.  So be sure to add an umbrella for your golf bag.  A nifty spring top allows the canopy to pivot in any direction so you can pull a single club while keeping the others dry. Forget the bag top cover, get the umbrella designed for your bag.
Rain Gloves:  The quality and materials of the new golf rain gloves are fantastic.   The Quick-Dry knit material of the FootJoy product provides a solid grip in wet conditions.  Wear them with both hands.  Get two pairs and change after nine holes. Forget wearing your old golf gloves, get the rain gloves.
Large Umbrella: An oversize 62-inch dual canopy heavy duty umbrella is essential.   It must be wide, and it must be strong.  A double canopy is vital as it creates a vent for the wind to pass through.  Purchase a well known stable brand.
Rainsuit: A high-quality rain suit will keep you completely dry throughout the round.  Waterproof and breathable, Gore-Tex material is a must, don't buy anything else.  Make sure you find the correct fit and get trouser hems that are adjustable.  It should be light yet reinforced to prevent tearing.  And it must be easy to put on and take off, as you may do this during the round. Get the best that you can afford. It will pay off immediately.
Golf Shoes:  There is nothing worse than feeling your feet get wet inside your shoes during your round.  It doesn't need to happen.  Too many golfers use their best high-quality waterproof shoes only when it's dry, and an older well-worn pair when it's wet.  That's backward.  Dedicate one pair of golf shoes to playing in the rain. Make it a newer fully waterproof pair.  You need better traction so get a pair specifically designed for rain.  They should be leather or synthetic leather and not fabric. Your feet will stay completely dry even when stepping in the puddle and you'll have confidence that you won't slip during the swing.
Towels:  Use three towels.  One large one for your clubs, grips, and gloves that you hang from your umbrella,  one small one for your club face and ball that you keep in a pocket, and one large one for your cart seat if you're riding.  I like three different colors to keep them separate with one spare for each function.  Wipe your grips and your rain glove with a dry towel each time, and you'll be amazed at how much more comfortable your golf shots become.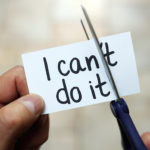 Attitude: Don't let the rain get you down.  In competition, I love when it rains since I know half of the field will give up immediately.  Have a positive can-do attitude.  With these adjustments to your gear,  you can play well in moderate rain showers.   There is no reason why playing in the rain should spoil your round.
Side benefit:  Unless the storm closes the golf course, you'll probably finish in record time as most golfers will have fled the golf course.