Are you looking for the best golf courses in Arizona?
We got you covered in this epic guide of the best golf courses in the Phoenix and Scottsdale area. Whether you are a local AZ golfer, traveling with friends for a golf trip or have an extra day on a business trip, there are plenty of options in the Phoenix metro.
As long as you come during the right time of year (September – May), you enjoy perfect weather in the desert. But if you come during the summer, you will have even more sun and extreme temperatures.
There are pros and cons of coming any time of the year. If you visit during the winter, that means paying in-season rates and having a little more traffic on the golf courses. Off-season means more heat but rates that are 50-70% of normal rates. Either way, there are tons of amazing courses but make sure you plan accordingly.
Best Golf Courses in Arizona
Phoenix is one of the largest metros ranking #6 in terms of the largest cities in the United States. But unlike many big cities, it's spread out, so I broke down the best courses by area.
Best Public Golf Courses in Phoenix (and Surrounding Area)
Quintero Golf Club
Quintero isn't actually in Phoenix but about 30 miles north and it's well worth the drive. The course is desert golf with some amazing views.
The views are some of the best in the valley like the Par-3 9th hole which is nearly 230 from the tips. Plus, they have some small casitas so you can stay for a few days and enjoy the awesome practice facilities.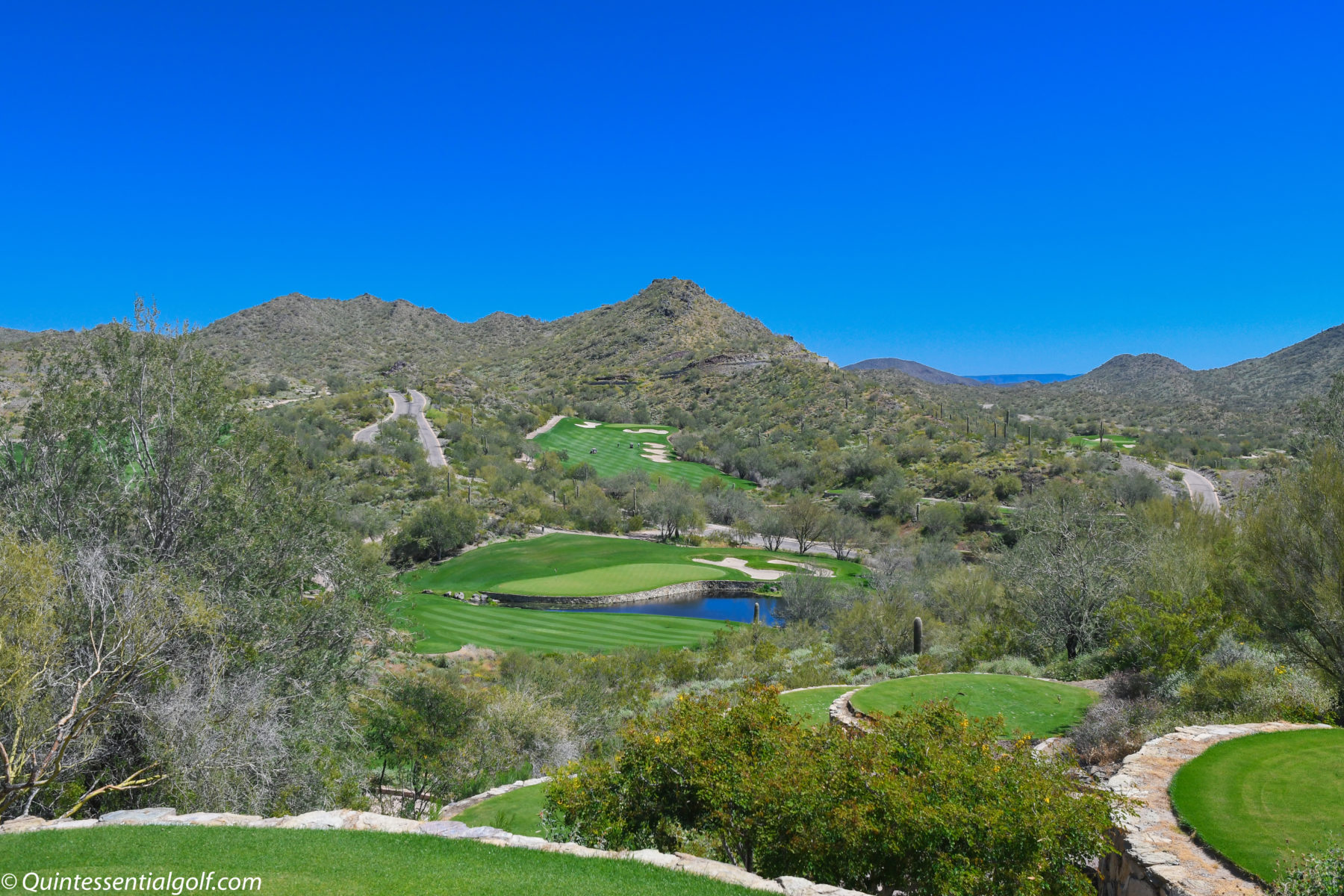 Whirlwind Golf Club
Whirlwind Golf Club in Chandler, Arizona offers two of the best public golf courses in the valley – Devil's Claw and Cattail. The name might sound familiar as it's been the home to the Korn Ferry Finals the past few years and holds top qualifiers like the US Amateur.
Both desert golf courses offer similar layouts that made for scoring. If you hit the ball in the fairway, you can hit a lot of greens make some putts on their smooth greens.
Plus, Whirlwind has one of the best driving ranges and short-game areas in Arizona. Not to mention, you can stay at the resort or stay a mile away at Wild Horse Pass Casino and luxury outlets.
Gold Canyon Golf Courses
In Globe, about 30 minutes from Phoenix they are worth the drive. They have two courses, Dinosaur Mountain and Sidewinder. Both courses have breathtaking views of the Superstition Mountains. Countless elevation changes make for interesting tee offs and approaches.
You can stay at the resort and play both courses. While both are excellent, Dinosaur Mountain has a more character and scenic views.
Raven Golf Club
The Raven Golf Club, in South Phoenix, is a top public course in Arizona and rated 4.5 stars by Golf Digest and the #5 golf course in the state by Arizona Magazine. The Raven offers manicured greens, a large practice facility, and a fun layout. The par 72, 7,078 course has some conveniently placed water hazards and bunkers to make it an awesome back nine challenge.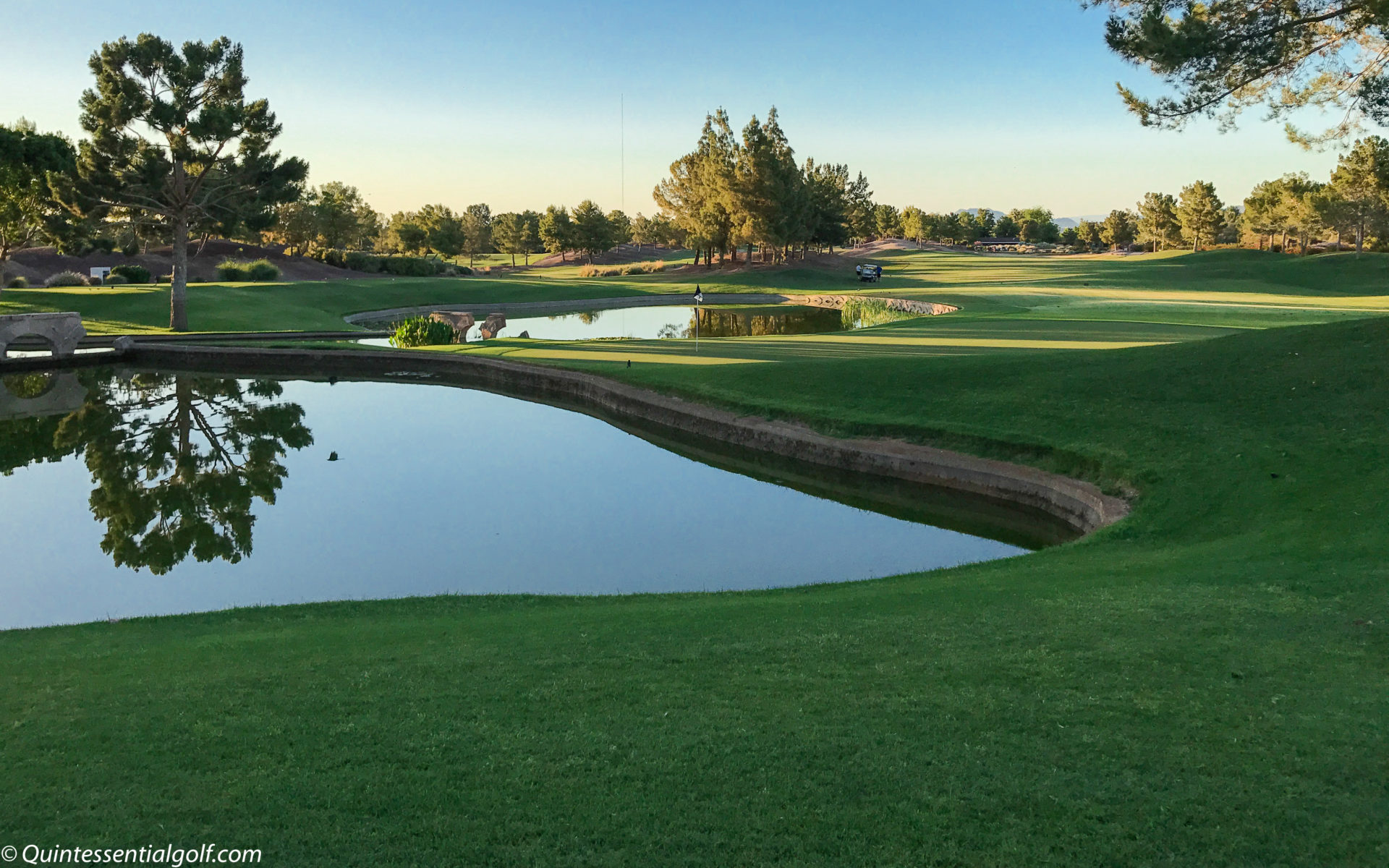 Wickenburg Ranch
If you live in Phoenix, it feels like a small journey to get to Wickenburg Ranch but it's an amazing golf club and community. The course itself is a monster and tips out at nearly 7,400 yards with tons of awesome views and challenging holes. Not to mention, it doesn't get a ton of play based on its location so it's always in perfect shape.
There are an extra 9-holes at Wickenburg Ranch known as the "Lil Wick" with its own bar, grill, and outdoor games like corn hole. If you have time, drive from Phoenix and enjoy a full day at Wickenburg Ranch.
Other Notable Courses in Phoenix
Papago Golf Club – Papago is one of the most well-known public golf courses in the Phoenix area. It's a well-kept municipal track that is now home to the ASU Sun Devils. The course is in good shape year-round but don't expect too many views or extra amenities like the others on this list.
Legacy Golf Club – Next to the Raven Golf Club, Legacy is another fun public course fairly priced. The fairways are wide open but there are some good challenges on the back nine. For the great shape and low price, it's a tough deal to beat.
Ocotillo Golf Course – Ocotillo is a 27-hole golf course that has water coming into play on 20 of the 27 holes. All nines are unique with tons of character and has some challenging holes. The final hole of every course has water in play on the tee off and approach making for some fun fireworks to finish.
Best Public Golf Courses in Scottsdale (and Surrounding Area)
TPC Champions and Stadium Course
While it's fun to watch the Waste Management tournament every January, playing the golf courses are nearly as fun. You won't have the 100,000+ people watching but it always fun to play where the PGA Tour competes.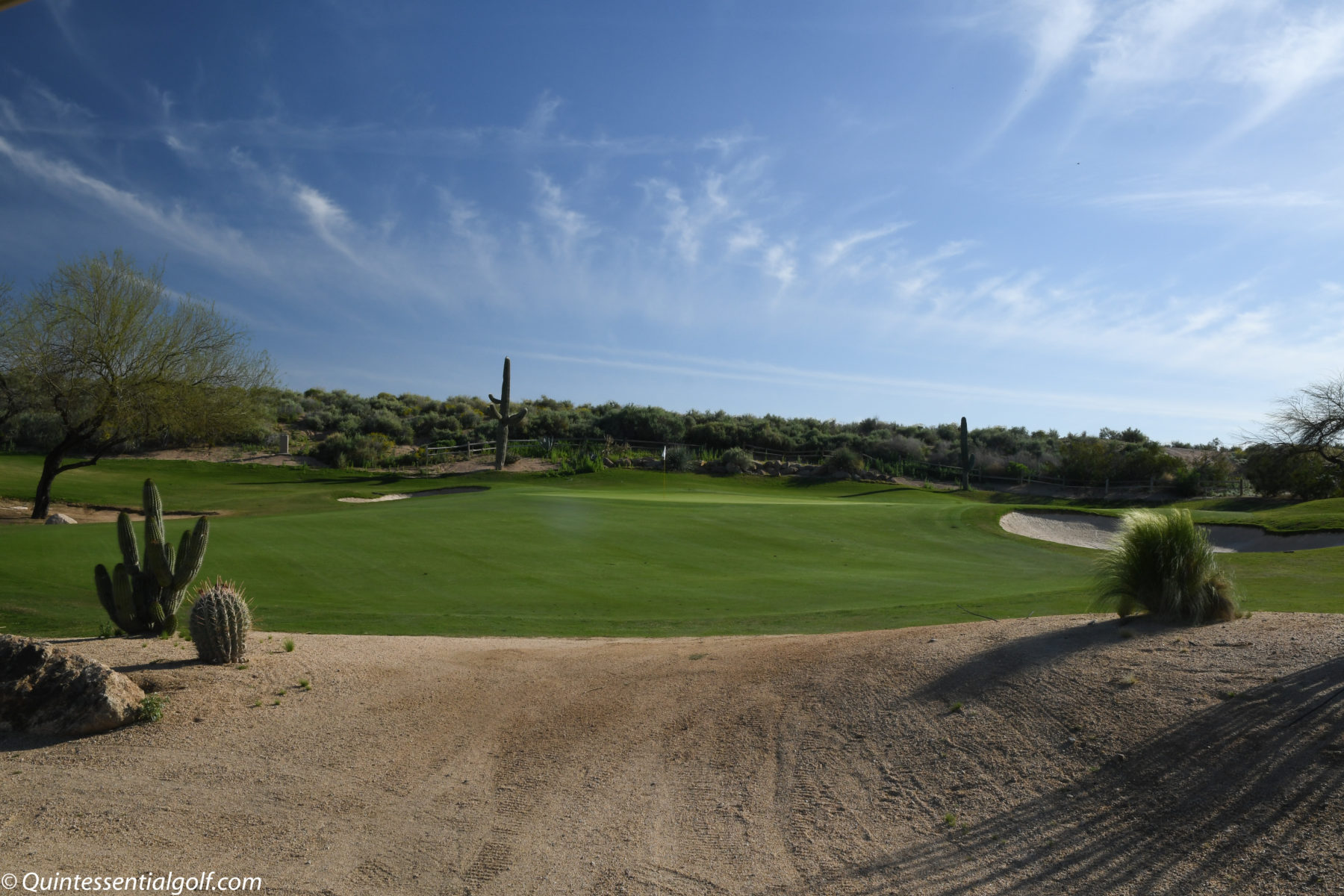 The TPC courses are technically desert golf but the desert itself doesn't factor into a ton tee shots. The fairways are pretty wide, the greens are big but fair, and there are a few stretches of awesome holes.
The final four holes on the TPC Stadium course are awesome with a water-challenged par 5 with an island green, the short "made famous by TV" par 3, a driveable par 4, and the 18th with water on the left side. It's easy to see why it makes for such great entertainment on TV.
Camelback Golf Club
While Arizona has a ton of golf courses, most of them are desert golf which means a lot of potential for lost golf balls. If you need a break from dirt and cactuses, check out Camelback Golf Club, in the heart of Scottsdale but tucked away between million-dollar homes.
The Camelback Golf Resort offers two championship 18-hole courses; Ambiente and Padre. In season, Ambiente is usually over $200 but it's one of the best golf courses in Scottsdale.
They replace the traditional desert format with thick rough, tall pine trees and marshes. While both courses are great, Ambiente has more epic holes including memorable Par 5's.
Grayhawk Golf Club
In North Scottsdale, Grayhawk Golf Club offers two championship golf courses – Talon and Raptor. Talon offers a desert-style test of golf with plenty of the Sonoran Desert coming into play and large, multi-tiered greens.
While the Raptor course delivers more traditional challenges, it's laid out with generous fairways and deep greenside bunkers guarding crowned greens. Both of the acclaimed layouts at Grayhawk Golf Club are among the best golf courses in Scottsdale. Plus, there are several dining establishments like Phil's Grill and Isabella's Kitchen to help you enjoy the 19th hole.
We-Ko-Pa Golf Courses
We-Ko-Pa Golf Club delivers one of the best golf experiences in the Scottsdale/Phoenix area with the Cholla and Saguaro courses. Scott Miller designed the Cholla course, while Bill Coore and Ben Crenshaw teamed to create Saguaro. Both courses have received praise from industry-leading publications such as Golf Magazine, Golfweek and Golf Digest.
While both courses are always in excellent shape, you also get breathtaking views of the McDowell Mountains, Red Mountain, Four Peaks, and the Superstitions.
After a round of golf, relax in the clubhouse, featuring scenic indoor or outdoor dining complete with a full-service dining venue. You can make a weekend by staying at the resort, playing some cards at two nearby casinos and it's only 10 minutes from the booming golf entertainment venue Top Golf.
Troon North Golf Club
Troon North in North Scottsdale is a desert golf experience with two 18-hole courses stretching through natural ravines and foothills in the shadow of Pinnacle Peak.
Immaculately groomed fairways, bentgrass greens and amazing views are common to both courses. Troon North's Monument and Pinnacle courses consistently rank at the top of every golfer's must-play list. Recently renovated by Brish Open Champion Tom Weiskopf, it continually challenges players.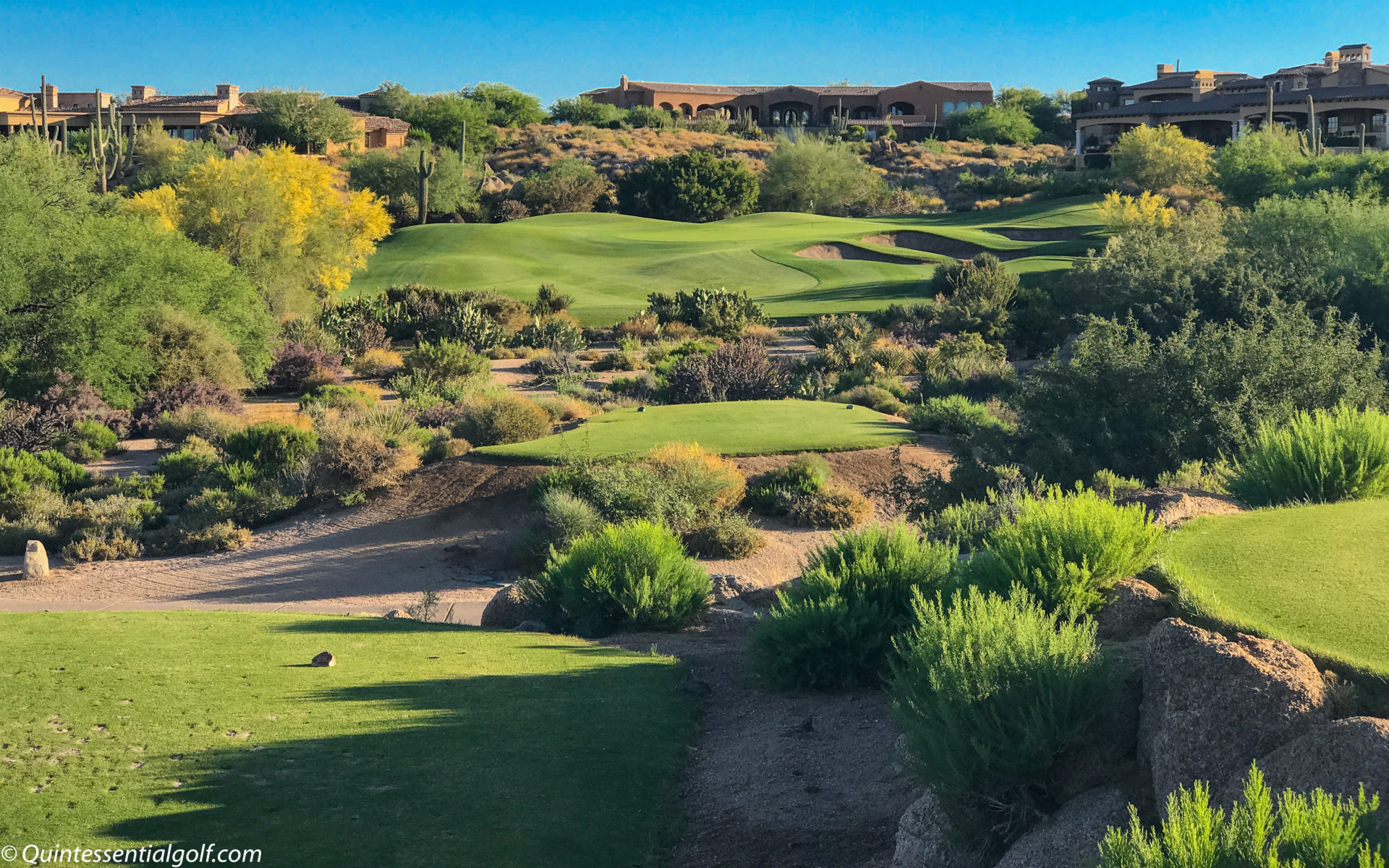 Best Private Golf Courses in Arizona
While there are a lot of great public golf courses in Arizona, there are some epic private courses. If you're a member of other private clubs, your pro might get you on. Some ultra-private courses like Whisper Rock and Estancia will be more challenging to get access.
Here are 10 of the best private golf courses in Arizona (in no particular order):
Mirabel Golf Club
The Estancia Club
Silverleaf Golf Club
Troon Country Club
Desert Highland Golf Club
The Rim Golf Club (Payson)
Forest Highlands Golf Club (Flagstaff)
Ritz Carlton at Dove Mountain (Tucson)
Desert Mountain Club (Seven Nicklaus golf courses)
Whisper Rock Golf Club (Upper and Lower)
Summary of the Best Golf Courses in Arizona
As you can tell, Arizona has no shortage in terms of awesome golf courses. If you're coming to the valley of the sun, bring your golf clubs for some fun in the desert. You could easily stay a month and not play the same course twice.
But as I mentioned in the intro, plan accordingly for weather and rates. While you can play elite-level courses for a fraction of the price in summer, expect 100+ degree temperatures. Ideally, try to visit in late spring with the Cactus league, perfect weather, and courses in perfect shape.