By Michael Leonard
Have you ever wondered what it's like to compete on the biggest stages and try to earn your PGA Tour card?
Let me tell you from personal experience, it's not cheap or easy, but it's a memorable experience.
Before you can make it to the PGA Tour, you earn your first playing privileges and tour card through the Korn Ferry Tour. This tour is like the minor leagues in professional baseball.
To get a status on the Korn Ferry Tour (formerly the Web.com Tour), it's a lengthy process.
Pre-Qualifying (54 holes)
1st-Stage Qualifying (72 holes)
2nd-Stage Qualifying (72 holes)
Final Stage Qualifying (72 holes)
The first three stages cut 70% of the field and the top 50 from the final stage get full status on the Korn Ferry Tour. While it's mostly mini-tour pros and club pros, amateurs with a 1.9 index or lower can compete.
In the summer of 2019, I competed in Q-school golf as an amateur. Here is my full experience, plus, the seven biggest tips to improve your game as an amateur golfer.
The Backstory
In May 2017, I quit my six-figure career as a top national sales rep. Tired of the real world, I wanted to build my online business, and play golf whenever I wanted.
At that time, I was just getting back into competitive golf. The year prior, I took a bucket list trip to play Pebble Beach with my family. We booked the trip about eight months ahead of time. As soon we booked it, I realized I had to get my game together to justify the $500 greens fee.
While I could still break 80, I wasn't playing much. For the past decade, I would casually play with friends and family. Sadly, work got in the way and I didn't have the drive to play competitively after quitting college golf.
But once I got back into practicing, I fell in love with the game again. I caught the golfing bug and became obsessed with the sport.
Before work I would practice, at lunch I would go to a nearby putting green, and once the clock struck four, I raced to the golf course. I found my passion for the game again. By the time Pebble Beach came around, my game was ready.
Bucket List Golf
We played Pebble Beach the first day and Spyglass Hills the second day. Playing from the tips, I shot 77-72 at two of the most iconic courses in the world. The 77 included a triple and a double bogey, but otherwise, I played solid golf. When I got home, I signed up for a few amateur events.
While golf was going great, I hated what I was doing for work. Sure, the money was good but I had zero passion.
So I quit my corporate job after making $200 from my blog. I told myself I would no longer settle for my life and I would start living it. My goal was to build an online business that inspired the world and try to play professional golf. I gave up on my childhood golf dream once in college and wouldn't do it again.
While it hasn't been easy, I've made it work. My game wasn't ready in 2017 or 2018 for Q-school golf but in 2019, I knew I had the potential. In July 2019, I signed up for the Korn Ferry Q-school pre-qualifier.
Leading Up to Q-School Golf
The pre-qualifying stage is between $2,800 – $3,500, depending on when you register. For three rounds of competitive golf and two practice rounds, it makes Pebble Beach prices look cheap. But my business was doing fine and my game had never been better, so I signed up.
After looking at the seven different sites, I chose Wilderness Ridge Golf Club in Nebraska for my pre-qualifying site. The course looked fun and the previous year's scores weren't crazy low.
Once I hit "submit," I had 30 days to get ready and created a detailed practice plan. I wanted to make sure my game was as solid as ever.
I was playing or practicing six days a week in the dead summer of the Arizona heat. Most of the time was short game work, but I also worked hard on golf routine and key mental exercises. By the time Q-school came around, my game was ready.
Q-School Golf – Pre-Qualifying Stage
I arrived in Nebraska mid-day on Sunday and headed straight to the course. I was eager to see the venue and test the course conditions.
As soon as I arrived, it started to feel real. I was more nervous than I ever had been in the weeks leading up to the event. While part of me wanted to go play nine holes, I decided to just hit balls, use the awesome short game area, and rest up.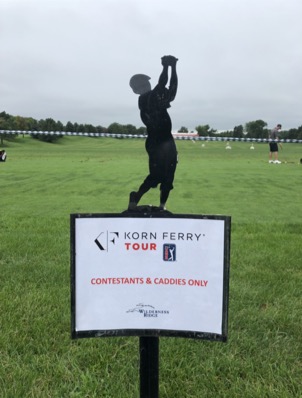 Practice Rounds of Q-School
On Monday and Tuesday before the event, the course was closed for 90 players competing. We could play anytime, so I went out mid day on Monday so I could play by myself. It was an awesome day where I played really well and got a good feel for the course.
My biggest takeaways from the first practice round, the rough was deep and the greens were super-fast. By the time the event began, they were rolling at a 13 speed which is as fast as they are on the PGA Tour. And the course was long at over 7,100 yards playing as a Par 71.
The second day I woke up sore from walking and pushing my bag. My legs felt stiff so I decided to just play nine holes and do some practice. I wanted to stay fresh for the first day. By the time I left the course, I couldn't wait to get started.
Q School – Day 1
Day one of Q-school was surreal. The first tee jitters were in full-effect and my game was shaky as I began.
The first hole was so sloppy and nervous. Thin tee off, pulled second shot in the deep rough, awful chip on the fringe, hit a twenty-foot putt six feet by and made a comeback putt for bogey. After a few holes, I got more comfortable, made my first birdie, and gained some confidence.
I plugged along nicely, made some clutch up and downs in the middle of the round. I stuck with my game plan and birdied the par 5's. I even made a great birdie on the last hole to shoot even-par 71. My professional competitors shot 71 and 72. I was beyond thrilled with my first ever Q-school performance.
By the numbers:
Weather: 85 degrees – 30 to 40% humidity
Score: 71 (even par)
Fairways: 11/14
Greens: 9/18
Putts: 26 putts
Q School – Day 2
I've never been more tired after a round of golf than day two of Q-school. I was beyond hot. My pants had changed from light grey to dark grey from the 90% humidity and high temperatures. I've never played through much humidity in my life.
The front nine was solid. I couldn't get any putts to drop but I played well.
The back nine was ugly. My hands and grips were so sweaty, I nearly let go of the club two or three times. I was two over on the back nine but I was excited about my position heading into day three.
By the numbers:
Weather: 90 degrees & 80-90% humidity
Score: 73 (+2)
Fairways: 6/14
Greens: 12/18
Putts: 33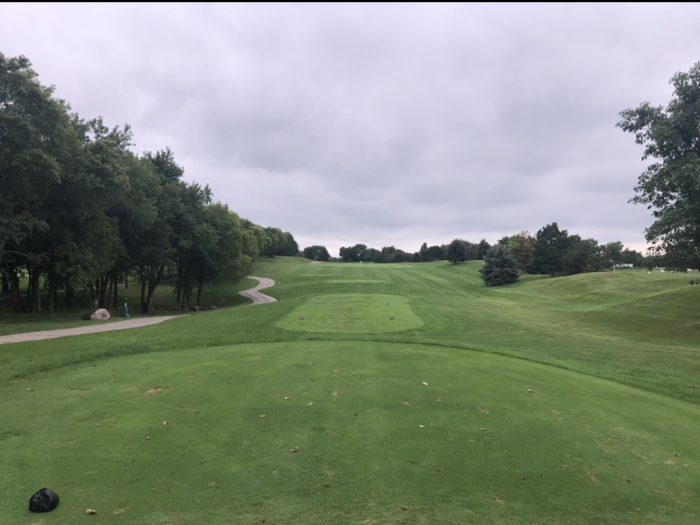 Q School – Day 3
By the final day, I was ready to go. I walked up to the first hole confident in my game and myself.
The drive I hit on #1 will be on that I remember for the rest of my life. I roped a driver 325 yards straight down the middle of the fairway with a big group watching. Sadly, it just wasn't my day. My putter was cold on the front nine and I made a painful triple bogey on an easy par 5.
Even with the triple, I was still contending and never gave up. I had a chance on the back nine but just couldn't get anything to fall.
Looking back, I think I was mentally and physically exhausted. By the time I finished on 18, I knew I missed it but I kept my head high. I was proud for competing so well and knew I was just a few swings away.
Overall, I ended up missing the first stage of Q-school by three strokes but my confidence had never been higher. I knew that I will use this experience for future tournaments and I learned what I needed to work on. It was a win-win and a moment I'll cherish forever.
By the numbers:
Weather: 79 degrees, 40-50% humidity
Score: 78 (+6)
Fairways: 8/14
Greens: 11/18
Putts: 34
Q-School Golf – 7 Tips for Every Golfer to Shoot Lower Scores
Prior to Q-school, I worked with a top sports psychologist and played a ton of amateur events that taught me tons of priceless golf lessons. Even though I didn't advance to the next round, I also learned a ton during my time in Nebraska.
Here are the biggest lessons to help you improve your game.
1. Don't Try to Birdie Every Hole
If you're like most golfers, you try to birdie every hole out there. But what I learned from Q-school's deep rough and nasty tucked pins is that par is a great score. The pins were so tough every day, that 80% of the time I wasn't even aiming at the pin.
Amateur Tip: Aim for the middle or fat of the green 90% of the time. Unless you have a wedge, give yourself the best chance for a birdie putt. Hitting more greens will also lead to less short-sided pitches, more pars, and lower scores. Remember, pars will never hurt you.
2. Practice Your Short Game 2:1
The biggest difference between pros and amateurs isn't how far they hit the ball. The biggest difference is how they score from 140 yards and in. I practiced my short game relentlessly heading into the event and it made a huge difference. When your short game is solid, you can make up for a bad day of ball striking.
Amateur Tip: Practice your short game 2:1 over your long game. If you have 90 minutes to practice, spend 30 minutes on the putting green, 30 minutes chipping/pitching, and 30 minutes on the range. When you're on the range, spend at least 10 minutes just with wedges. Improving your short game will have a direct impact on consistently shooting lower scores.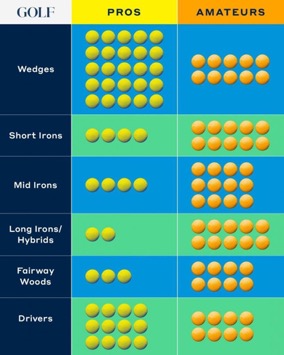 3. Avoid Big Mistakes
My goal for every tournament is to avoid double bogeys by any means as they are hard to bounce back from. In 54 holes of Q-school, I had zero double bogeys. But I had one triple bogey thanks to a shot out of bounds and an untimely three putt.
Amateur Tip: If you shoot in the 80s, 90s or 100s, don't fear bogeys. Too often, I see players try to save par or hit a hero shot, only to make double or triple bogey. Instead, accept that bogey is a good score sometimes. Bouncing back from a bogey is much easier than a double, triple or worse.
4. Know When to Walk or Ride
In Q-school, you must walk and push or carry your bag. While the humidity didn't make it any easier, my legs got tired in the second half of the tournament. This created some lazy swings including the triple bogey on day three.
Amateur Tip: If you like to walk, that's awesome. But if your legs aren't in the best golf shape and carts are available, do what's best for your game. If you have to walk and caddies are available, the caddy is well worth the money.
5. Always Have a Routine
If you're playing competitive events or even a friendly wager with friends, it's easy to feel nervous on the course. One way to minimize nerves is having a solid routine. As sports psychologist, Dr. Bob Rotella said, "Your routine is your wingman on the course." I couldn't agree more and made it a huge point of emphasis leading up to the event.
Amateur Tip: Not only should you have a routine on every shot but you should practice it on the range and short-game area. A routine will help you stay focused on what you're trying to do during the round and keep negative thoughts away. Use a simple pre-shot routine to stay confident and collected on the course.
6. Stay Patient
One of the biggest mistakes I've made and see a lot of other amateurs make, is they try to force birdies. This is the wrong approach and a good way to three-putt or have a blow-up hole. Instead, make patience your best friend on the course. You only need to score well on a few stretches of golf to shoot low scores.
Amateur Tip: If you get off to a bad start, don't worry about it. There is still plenty of golf left! Instead of attacking pins with long irons or attempting hero shots, shoot for the middle of the green. Get some confidence in yourself and your game. Then, as the round progresses, you can get more aggressive. Remember, a par is a great score!
7. Have a Game Plan for Every Hole
The last tip is to have a game plan for every hole and every shot. Too many amateur golfers just want to hit the fairway, hit the green, and not three-putt. These are broad goals, instead, you need to get specific.
Amateur Tip: On the tee box pick a target in the distance. Do the same on your approach. The smaller the target, the better! On the putting green, imagine how the putt will break, pick a specific target, and stick to your routine. Focus on making it, instead of not three-putting. Always plan to win, don't play to lose!
Final Thoughts on Q-School Golf
Hopefully, this Q-school golf review will help you understand what it really takes to qualify. It's not a cheap or quick process so if you decide to compete, prepare your bank account and schedule accordingly. And if you're happy playing golf for fun, make sure to use these tips above to consistently shoot lower scores.
The last tip?
Have fun!
So many guys out there weren't enjoying golf anymore. It was sad to see. I promise if you have a better attitude, you will always play better and enjoy the game more.
Don't forget, golf is still a game. Enjoy every moment that you get on the links!
Michael Leonard left his corporate job in 2017 to build his online business and pursue the dream professional golf in Scottsdale, Arizona. He is a professional writer, avid golfer, and the creator of Inspire Your Success.