Each January, the PGA Merchandise Show takes place for four days in sunny Orlando. More than 40,000 attended the 64th annual show ending on January 27, 2017.
Run by the PGA of America, 7500 PGA professionals and even more merchandise buyers from almost every club, course, and store in America come together to see what over 1000 golf product exhibitors are showing for 2017.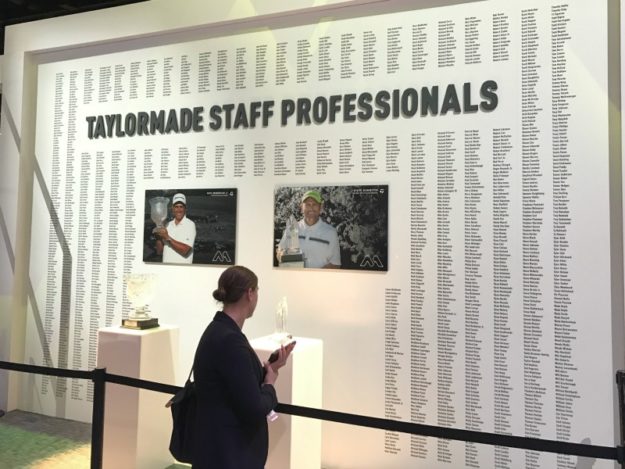 This year's major news was the announcement by Taylormade that Tiger Woods signed an equipment deal to play their woods, irons, and wedges. Look for Tiger with the new Taylormade M2 driver very soon.
Titleist launched a new version of their popular ProV1 and ProV1x golf balls. V1 has a softer feel and lower ball flight. V1X has higher flight and the highest iron spin rate.
Callaway had perhaps the most prominent position on the floor. They announced that Michelle Wie would join their equipment team alongside pros such as Patrick Reed and Masters Champ Danny Willett.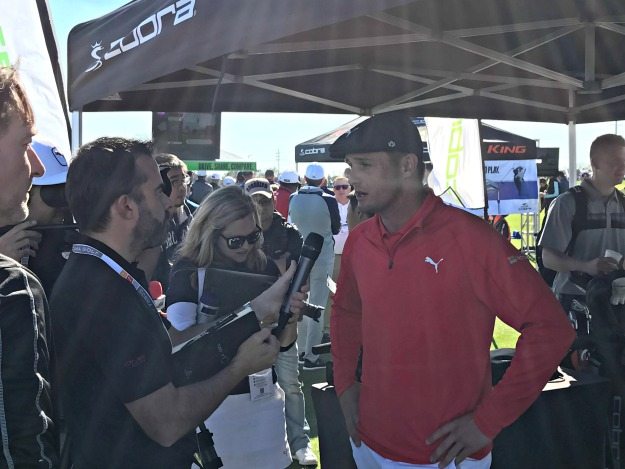 Cobra launched the One Length King F7 irons inspired by newly signed professional Bryson DeChambeau – who rocked the golf world in 2015 by winning the U.S. Amateur with irons of all the same length. He shows his technique on the range during Tuesday's demo day.
StreetRod Golf Cars will make you a fully customized golf cart. They brought some fabulous designs to the show, including fire trucks, police cars, and roadsters.
My mission was to find interesting products that could appeal to the Quintessential Golfer. After searching 10 miles of aisles in the Orange County Convention Center, here are seventeen products for your serious consideration.
Electronics
Technology is having a profound effect on the game of golf as it lowers the cost of obtaining, storing and manipulating swing and shot data. For those of us who are constantly looking to improve these products can provide incredible value.
Launch Monitors
Serious golfers know that knowing their swing numbers (swing speed, ball speed, launch angle, spin rate, club path, face angle, angle of attack) is essential to game improvement. That's why virtually all professionals and most instructors have a launch monitor to measure this- typically a Trackman. Unfortunately, Trackman retails for as high as $25,000 putting it out of reach of most amateurs.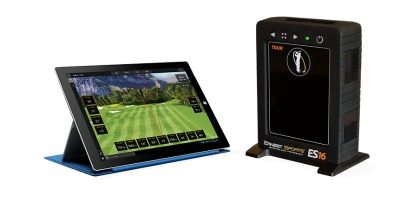 Happily lower cost options for the individual golfer are now available. Ernest Sports launched their new ES16-Tour model ($5900) claiming data accuracy as good as Trackman. It's the first launch monitor to combine four Doppler radars (best for speed) with two photometric cameras (best for spin & direction). Besides capturing more ball data (like horizontal dispersion) more accurately, the critical club data such as angle of attack, and face/path angles are obtained. Hence, users can select a distance to the pin and see a graph of the live ball flight. Ernest Sports has lower cost models with more limited data and accuracy. The ES12-Player ($199) provides distance and ball speed. With two dopplers the ES14-Pro ($595) adds launch angle, spin rate, and club head speed. All models display their data on Windows 10 and IOS devices. ES16 IOS support is not yet available as of the show.
Full Body 3D Motion Capture
High-speed video to capture the positions and timing of the body during the swing is a great training aid. 3D sensor technology to map the exact kinematic motion could even be better. Unique electronic sensors are attached to various points of the body to transmit detailed motion data to your device. The precise kinematic motions show various angles. For the analytical golfer with the ability to diagnosis, this is very interesting.
MySwing Golf was showing their MySwing Professional product with seventeen sensors and Windows software.
A Korean company – 4D Motion Sports – launched a product that includes two to twelve sensors and supports smartphones and tablets.
Both systems are targeted toward Golf teaching professionals but are ideal for serious amateurs as well. The 4D Motion price is $1450 for six sensors and $2450 for twelve sensors. No pricing data was available for My Swing Golf.
Real Time Shot Tracking
Both Game Golf and Shot Scope were showing their real-time shot tracking platforms. Lightweight tags are attached to the end of each club that communicates with a receiver is placed on your belt or wrist. Using GPS, the distance and location result for every shot is captured for post-round analysis.
With Game Golf, you touch the tag on the club to the receiver on your belt before swinging. The new LIVE product adds a Bluetooth interface allows your smartphone to immediately show real-time shot data for practice (not allowed under Rules of Golf).
With Shot Scope, the receiver is a watch-like wristband that automatically communicates with the club, so no touching of the club to the receiver is required. Using the location and distance data they provide extensive statistics through the smartphone, tablet or desktop dashboards. They even show your exact 2D shot path superimposed on an aerial view of the course. It takes some time getting used to it, but both are good at distinguishing practice strokes from real strokes.
Game Golf LIVE is $149 with 18 club tags, and Shot Scope is $220 with 20 club tags.
Pressure/Weight Tracking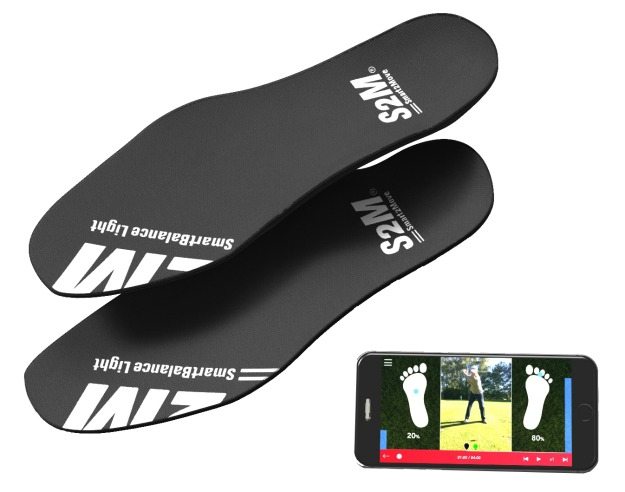 Instructors are increasingly focusing on getting students to understand the correct weight distribution and timing during the swing. This is especially important for increased power. I was intrigued by the electronic pressure insoles by Smart2Move.
Their SmartBalance Light product embeds electronics in the insole to measure the weight distribution between feet and between the toe/heel of each foot. Data transmits to your smartphone for immediate analysis. Smart2Move SmartBalance Light pressure insoles $299.
Rangefinder
Nikon took optical image stabilization technology from their cameras and introduced it in their VR (Vibration Reduction) series of laser rangefinders. For longer shots, it can be difficult to get a lock on the flag. The VR reduces vibration while the laser is pointed at the flag making it much easier to lock and report distance. I found it worked well on the convention floor. A non-USGA rule compliant version that computes effective distance incorporating slope elevation is also available as the i version. Nikon CoolShot 80VR $400, 80VRi $450.
Apparel/Accessories
Oxford – This up and comer in the luxury golf apparel market is challenging more well-known brands. Their parent company also owns the Tommy Bahama brand. My closet is full of Oxford microfiber and cotton blend golf pants in every color. I like their sophisticated yet casual look combined with an unusual level of comfort and great value.
The Oxford 2017 sportswear collection is terrific. In addition to a casual collection of cotton and performance (nylon/spandex) sports shirts, they offer the favorite Dri-Release polo. Made from a blend of cotton and polyester it dries four times faster than cotton, wicks moisture yet has the soft cotton feel. Other polo fabric options include COOLMAX, fabric with superior moisture management and a UPF50+ rating. The collection includes a range of outerwear and sweaters in a blend of cotton/wool. I love the traditional V-neck. Three types of trousers, the Highland, Baker, and Windsor round out the new line. Available May 2017.
Could there be another golf shoe that rivaled my favorite FootJoy ICON for that classic look? Look no further than the Connoisseur golf shoe from Royal Albartross of London. The white alabaster with chestnut trims and Japanese rolled laces makes a fabulous golf shoe. Royal Albartross $450.
Golfers have special requirements for eye-ware. Glare, reflection and contrast for the lenses with proper weight, fit and ruggedness for the frames combine for the best performance. Two manufacturers stuck out for me at the show.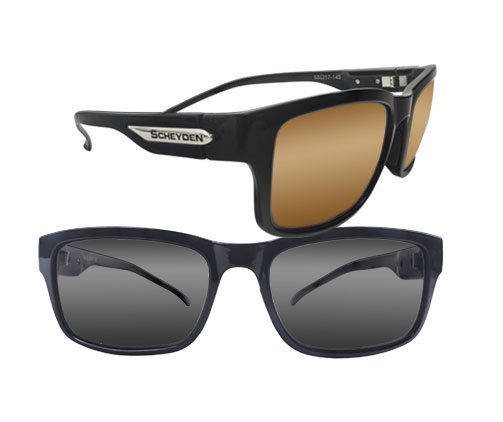 As an instrument rated private pilot, I know the critical importance of high-quality eye-ware. My pair of Scheyden Aviator glasses has served me extremely well for many hours of flying. Their new very light Waylite sunglasses have nose pads to keep the frame in place while swinging. Consider the non-polarized lens option if you wear them on greens as the depth perception is superior. Scheyden Waylite Non-Polarized $169
For a more sporty look, I found the Crit sunglasses from Tifosi. If you're like me, you find that you need a different pair of eyeglasses for golf because of the different requirements. Tifosi features removable lenses. Their GT lens is specially designed for golf and tennis. Many other lenses are then available for other situations. Excellent idea. Tifosi Crit with Three Lens $70.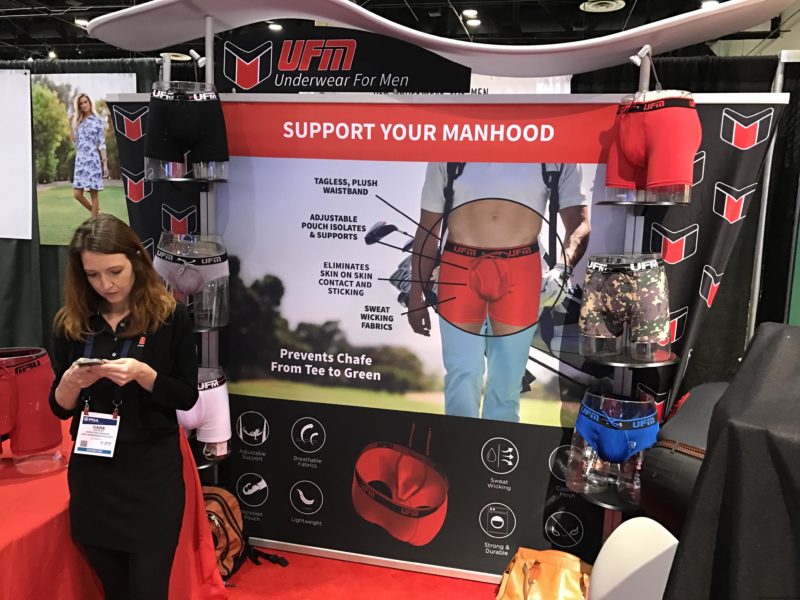 I was intrigued when I received a pre-show email from Dan Gourley, a former executive on the PGA Tour, inviting me to their booth where they would be introducing Underwear for Men to the golf community. UFM Underwear creates an adjustable pouch to "isolate and support your manhood." A drawstring inside the pouch adjusts to offer "hammock-like" support. It's intended to eliminate sagging, chafing and adjusting while playing sports including golf. Given that you can be walking 5-7 miles with violent swinging in between, it seems to make sense to keep things settled down. Although I've only given it a limited test, the result is very positive. Available in boxers and briefs in three styles and eight sizes. UFM $25-27.
As golfers, we need to be concerned with the health effects of frequent exposure to the sun. While at the US Women's Open in California last year, I noticed many LPGA players with unique sleeves on their arms. At the show, I found UV Arm Sleeves from IceRays demoed by owner and PGA professional Anne Rollo. Anna is based in Australia where the sun can be fierce, and skin cancer is a real problem. These sun sleeves are certified to UV 50+ making them a great alternative to sticky sunscreen lotion that needs to be reapplied. As the breeze blows the unique Tactel/Spandex fabric cools the skin. Available in one-size fits all and six colors. IceRays $25/pair.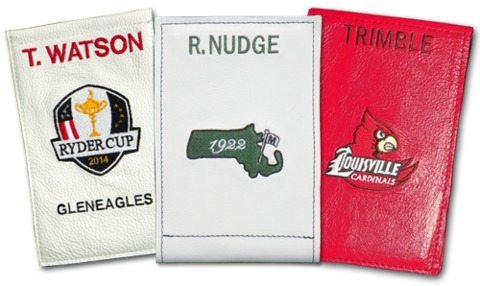 Ever wonder where to find the cool leather yardage book covers like those the pros pull from their back pockets on TV every week? A classic American small business makes them for players and caddies from all the major tours. In a tiny booth, I found President Jeff Kendall from Fairway Leathers in Wooster, OH. Jeff and his sister Barb have continued strongly after Founder Chuck Kendall, unfortunately, passed away in 2015. With a choice of fifteen rich leather colors, one can personalize the cover with your logo and desired inscription or choose from one of theirs, and local leather craftsman will make it by hand. Fairway Leathers 4.5″ x 7.0″ Yardage Book Cover $70.
It's a shame when new metal woods, hybrids, and putter heads & shafts get all nicked up because the stock ill-fitting leather head covers are too difficult to put back on. The solution is wool. For 50 years Jan Craig Headcovers have been hand-knitted from the best-worsted wool available. From the moment that Jack Nicklaus selected them in the 1960's, they have become the choice of traditionalists looking for the classic accessory. Seven sizes and forty different yarn colors together with multiple styles of poms & tassels are available. An easy-to-use design menu on their website is used for your custom design. Jan Craig Headcovers $26-$59.
If you are still dragging your clubs through the airport on your way to/from a fabulous golf trip, you're missing out on an excellent alternative. If you're not flying private, why not ship your sticks separately and eliminate that travel luggage hassle. Founded in 2011, SHIPSTICKS is shipping more than 100,000 golf bags per year to hotels and golf courses nationwide. A lot of golfers are enjoying the good life. It was a fabulous option on my trip to Pinehurst last summer. Three days within Continental US for standard bag $55-80 each way.
That's our report from the 2017 PGA Merchandise Show. Comments always welcome.