Only one year removed from his three putt collapse on the last hole at Chambers Bay, Dustin Johnson roared back to win the 2016 US Open.  It wasn't easy.  After his ball moved on the 5th green and the USGA official indicated there would be no penalty, he was then subsequently informed on the 12th tee that he may have incurred a penalty – but they wouldn't confirm until they reviewed the video after the round.   But Johnson could not be deterred this day, and he brought it home with a birdie on 18.
Hosting the 2016 US Open Golf tournament afforded the opportunity to visit the venerable Oakmont Country Club near Pittsburgh, Pennsylvania.  Despite being sold out a year in advance and enormous crowds, some USGA tickets sold for less than face value.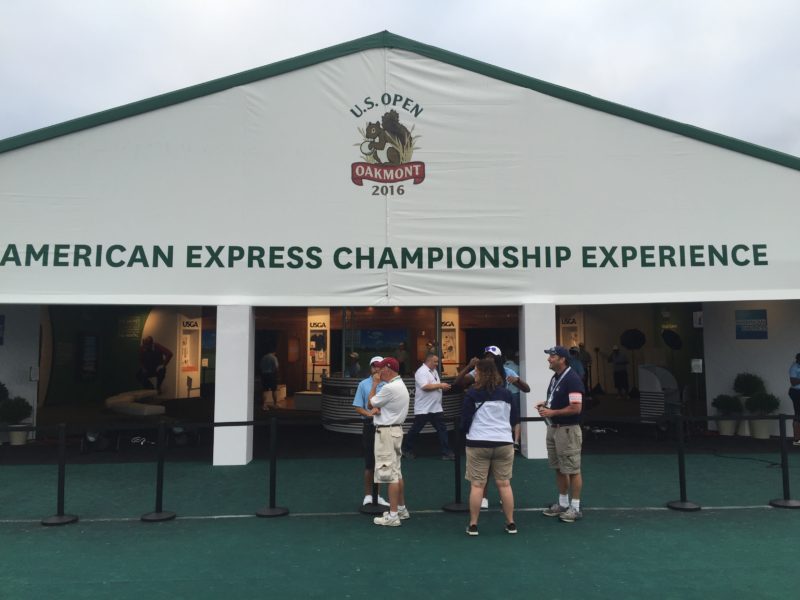 American Express has sponsored the US Open Golf tournament for 10 years.  They extended that in 2016 for another 10 years.   SiriusXM live tournament broadcast radios are available to cardholders.  Starting in 2015, the USGA allowed cell phones at all events including the US Open Golf tournament.  Consequently free secure charging stations were installed.  In contrast, photography of the golfers during the championship rounds remains prohibited.
US Open Golf  – Oakmont Country Club Course
The greens at Oakmont are some of the slickest in the country.  After all, the Stimpmeter was inspired by these greens.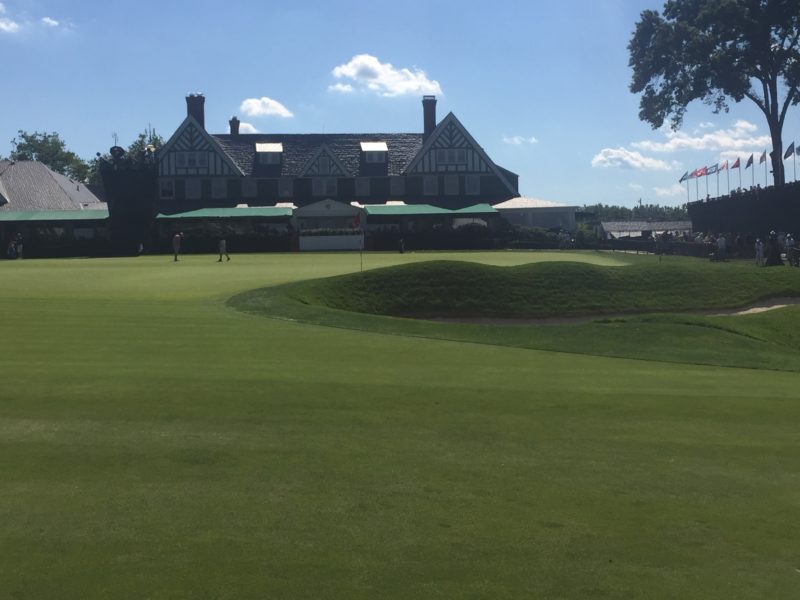 The clubhouse looking east overlooks a putting green and the 9th green which are one large green.  Hence, the players hit to the ninth flag-stick on the front half of the green while other players are practice putting on the back half of the green.
To the left of the landing area on the Par 4 Hole #3 are the notorious Church Pew bunkers along with the canted fairway that directs the ball into the rough.  Therefore they again come into play to the left of the landing area on the Par 5 Hole #4 coming back.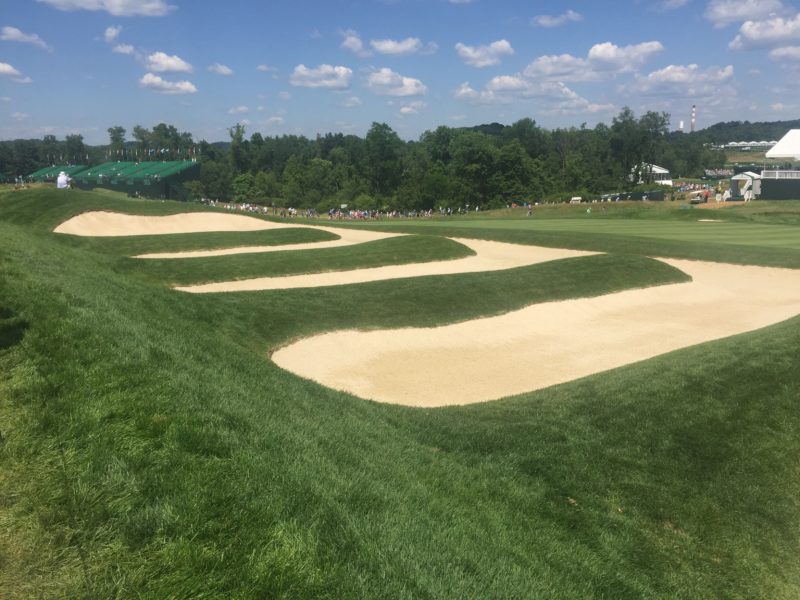 Perhaps almost as daunting are the punitive finger-like bunkers in the landing area on the left side of the Par 5 Hole #15.
It is hard to appreciate the severity of the green-side slopes at US Open golf tournaments.  For this reason, shots that miss greens or spin back off greens are extremely difficult to get close.  The course is surrounded by trees on two sides but is devoid of trees anywhere on the course.
One player navigated these treacherous conditions under the pressure of the final round.  With a potential penalty hanging over his round, Dustin Johnson came from four shots behind shooting a 69 and changing the direction of his career.